4 Best Kept Secret City Views in Prague

March 14, 2019
Prague is a city out of a fairytale with it's red slate roofs and Art Nouveau facades. But the tourists and backpackers that swarm its most well-known picture taking spots make all that hard to enjoy to the fullest. That's why I stuck to these 4 secret city viewpoints whenever I wanted to take in the city during my year long stay. Check them out next time you're passing through.
Letna Park has Prague's best kept secret city view.
Across the Vltava River, propped up on a hill, sits Letna Park. In the summer months, Letna is full of local life with its open spaces, shady lanes, playgrounds and beer gardens. If you aren't willing to brave the many stairs that get you there from the south end, you can always take a tram around to the north side. The world's largest Stalin statue used to tower over the city from it's highest point but has since become a makeshift skatepark following its demolition in 1962. In summer months, DJs and beer vendors set up beneath the area for weekly Friday dance parties.
Strahov Monastery is a close second for best place to view in the city in secret.

Who knew nuns loved beer? Prague's Strahov Monastery not only boasts breathtaking views of the city, but it has its own brewery. Prague is famously known for its cheap beer but that often limits you to Pilsner while this brewery has a variety of beers at competitive prices. They also offer well priced traditional Czech dishes considering its location. The Monastery itself has a fascinating history and a elegant ancient library that is definitely worth a peak.
Join locals to view the city from this sunny hill in Prague's Reigrovy Sady.

This park in Prague's Vinohrady district is a popular hangout spot for expats living in the city, like myself. In summer months, this sunny hill that looks out towards Old Town is covered in blankets where nomads and locals mingle, play instruments, catch a tan and drink beer from it's giant beer garden. The beer garden is especially popular for projecting sports games on its many screens around the perimeter. If you are ever in Prague during a World Cup, the beer garden in Reigrovy Sady is highly recommended.
The Palace Gardens under Prague Castle are an easily overlooked city viewpoint.
Prague Castle offers excellent views of the city if you're willing to push through a crowd, that's no secret. The castle is often accessed via an uphill slope lined with street artists and musicians hoping for spare change. But there is another access point, for a small fee, through the Palace Gardens. They wind up alongside the Castle walls offering an unobstructed view of the city in the company of well-manicured shrubbery.
Meet the author.
Colleen Connolly
Canadian, 26

Favorite place I've been so far: Nepal

I am a traveler turned nomad and a writer without deadlines. I first fell in love with living abroad when I went out West to British Columbia in 2012 and have since lived in the Netherlands, South Korea and Prague. I have backpacked everywhere in between and truly believe that travel makes us better people, for the world and for each other.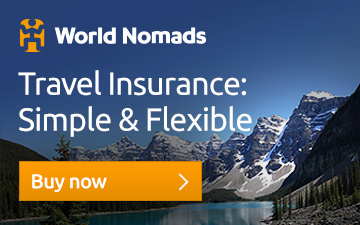 Follow our adventures on Instagram!
Digi | Tech Organizer | BAGSMART
Impossible to travel without your tech gear? Take this minimalist organizer bag, perfect for a lightweight traveler with an average amount of gear. Store your cords, chargers, batteries and external
View details
There are SO MANY places to rent a motorbike in Kampot. However, like most things, some places are much better than others.
We recently flew internationally into Sihanoukville Airport and wanted to go directly to Kampot. We couldn't find much information online about the best way to do this trip, so I...