5 Backpacking Essentials for
Southeast Asia
October 6, 2018

So, you've decided to go backpacking in Southeast Asia. You're in for a big adventure. But when it comes to your backpack, it's best to keep it small. That being said, don't leave out these 5 Backpacking Essentials that are sure to save your trip.


Packing cubes save essential time.
Packing cubes proved to be the most important items in my bag. Including these backpacking essentials kept me organized and saved me a lot of valuable time. With the everyday adventure of Southeast Asia awaiting, you don't want to be wasting your mornings riffling through your bag to find a clean pair of socks or shorts. Having a set of packing cubes allowed me to keep my clothes sorted and accessible. And for those dirty clothes, consider a lightweight drawstring laundry bag.


Money belts are essential for safety.
Southeast Asia relies heavily on its tourist industry to bring in money, and there are some locals that don't go about getting it kindly. Pickpocketing is very common and you need to have your wits about you. A money belt is a backpacking essential for anyone, whether in Southeast Asia or not. When your valuables are always on your person, you want to keep them close. This RFID money belt also has a pocket for your phone so that you have quick access when you need to snap a pic!


Microfiber towels are essential space savers.
When packing for Southeast Asia, less is always more. You need to be very selective to make sure that you can hop from one place to another with ease. Quick dry towels are backpacking essentials because they're compact. But even though they're small, they're very absorbent. Microfiber also dries quickly so that you don't get your backpack soaked when you need to pick up and leave post-shower. And if you're worried about the beaches, grab a cheap sarong from any shop along the way!


Reusable water bottles are environmentally essential.
With more backpackers flooding to Southeast Asia every year, there is an influx of waste in its countries and a lack of knowledge about how to dispose of it. It's our job to be mindful and minimize the waste we produce so that it doesn't end up in the environment. One way to do this is to make a reusable water bottle one of your backpacking essentials. You can fill it up cheaply with fresh water at your hostel instead of buying a disposable plastic bottle. For an extra bit of convenience try a water bottle carry clip!

Travel Notebooks are essential for memories.

Southeast Asia has so much to offer in regards to cultures and experiences. A lot happens in a short amount of time and sometimes pictures just aren't enough to help you remember all the details. Traveler's notebooks are essential for keeping Southeast Asia fresh in your memory for years to come. Even if you aren't a big writer, these notebooks can be so much more than just a notebook! Find a notebook that has zip pockets and pouches to hold your important papers, ticket stubs, or anything else you might want to hold on to! With a travel notebook that fits your style, you will be ready for the adventure of a lifetime that will be your backpacking trip to Southeast Asia.

Colleen Connolly

Meet the author.
Colleen Connolly
Canadian, 26

Favorite place I've been so far: Nepal

I am a traveler turned nomad and a writer without deadlines. I first fell in love with living abroad when I went out West to British Columbia in 2012 and have since lived in the Netherlands, South Korea and Prague. I have backpacked everywhere in between and truly believe that travel makes us better people, for the world and for each other.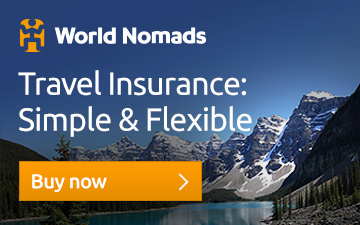 Follow our adventures on Instagram!
5 In 1 Travel Adapter
This all in one universal travel adapter is one of our favorite designs; suitable for more than 170 different countries (USA, Canada, UK, China, Australia etc), and featuring two USB
View details