How I Teach English Online While Traveling the World

April 2, 2019
My first job teaching ESL was at an English academy in South Korea. I fell in love with teaching kids from a different part of the word, and I loved how this experience not only allowed me to live in Korea and experience their culture, but also travel to other nearby countries while I was there. This was when I realized English speakers have this amazing opportunity to use English to travel the world in a whole new way!

(How cute were my kids?? This was my class of 3 year olds in Gwangju, South Korea.)
A downside to my teaching job in Korea was that I had to sign a year-long contract and of course I only had the allotted few weeks vacation the school gave me. This meant my traveling was limited to close-by places on the weekends and during holiday times when everyone else was traveling, so prices were higher and places were more crowded. Although I absolutely loved my time in Korea (I ended up staying an extra six months), I wanted to find a way to have more flexibility with my hours and freedom to travel. This is where online teaching comes in.

After leaving Korea, I got a job teaching online with VIPKID, and it's allowed me to continue traveling ever since! I love this job so much because I have complete freedom over where I teach from and what hours I work! There are so many different companies you can work through to teach English online, but I will just be talking about VIPKID as it is the only company I have personal experience with. If you're interested in also teaching English online as a way to travel (or just as a way to make some extra money from home), there are a few things you should keep in mind:

You need a good WIFI connection and your own space.

The beauty of teaching online is you can do it from anywhere in the world, as long as you have a good WIFI connection. With an unstable internet connection, your video and audio will be choppy and it will be very difficult to teach good classes. Your students will have a hard time understanding you, and if enough parents complain, I'm sure you could lose your job.

(My classroom setup in Kampot, Cambodia)
The way I avoid these problems is to make sure I'm somewhere with good internet BEFORE I start to teach. Luckily with VIPKID, I am able to book my classes anywhere between two weeks to an hour before I start teaching, so I am able to see how good my internet is before I even open time slots for parents to book. When looking for accommodation, I look for places that provide free WIFI and just hope that it is fast enough.

Then, one of the first things I do when I get to a new country is to buy a SIM card with a good reputation and a good data plan. This way, if the WIFI where I'm staying isn't great, or it goes dodgy for a little while, or the electricity goes out (happens more than you'd think), I will still have a way to stay online with my hotspot.

You will also need your own space to teach. The cheapest way to travel is to stay in dorms and shared living spaces, but this won't work if you also want to teach online. There's two reasons for this: First, you want your environment to be as quiet as possible. Having loud, distracting background noises while you're teaching will not go over well. Second, hearing one side of an English lesson gets pretty annoying quickly for anyone else who has to listen (just ask Mike haha). I can't imagine any hostel being okay with people teaching loud, irritating classes over video chat in their shared living spaces.

Time zones can make things a bit more tricky.

Most online teaching companies right now are based in China, so if you are looking to start teaching online, you will most likely be working in China time. This can either be very convenient or very inconvenient depending on where you are.

While living in America, I was waking up at 4am so I could teach as many classes as possible before the Chinese students went to sleep. While living in Australia, I wasn't starting until the evening and then was working into the early hours of the morning. Now, living in Southeast Asia, my time zone is almost the same as China's and I work from the afternoon until about 9pm.

Because students are taking these online lessons outside of their normal school hours, there are limits to how many hours you can work during weekdays. My students will book classes anywhere from about 2pm to 10pm Beijing time, with the most popular time slots being between 7pm and 9pm. During weekends and Chinese holidays, however, students will take classes all day (from 8:30am to 10pm Beijing time) and you have lots more options of when you can work.
A portable classroom doesn't have to be a boring one.

I'm coming up on my third year working for VIPKID, and during this time, I've had a variety of classroom setups and props I've used. I'm not sure about other companies, but VIPKID really stresses to its teachers how important it is to have a good background and lighting for your classroom as well as props you can use to make your lessons interesting and engaging, especially for the younger students.

(One of my setups in Cairns, Australia compared to one while backpacking in Cambodia.)
While I was living in the US and Australia, I was able to have lots of toys and materials at the ready to use during my lessons. Now, I'm carrying all of my belongings in a backpack and I've had to downsize. I've made a backdrop that I can hang up behind me, so no matter what the wall looks like where I'm staying, I know I will have a good background and it keeps my classroom looking consistent.

On this backdrop, I've made a felt board to replace the magnetic whiteboard I was using. There are lots of games and reward systems I can use made out of light-weight fabric rather than heavy and bulky magnetic pieces. I also have small, laminated pictures of different animals and foods which work just as well as the toys and puppets I used to use. Now all of my teaching materials pack up nice and small! My classroom takes up minimal space in my backpack but my students are just as entertained and excited about our lessons!

It might sound cheesy, but teaching English Online has really allowed me to live the life of my dreams. I'm able to travel where and when I want, make my own hours, and make enough to support this lifestyle.

If you're interested in teaching online, just starting out, or looking to make your online classroom a traveling one and you have any questions, PLEASE comment below or email me at chasin@chasintravel.com! I would seriously LOVE to hear from you and help in any way I can!

Meet the author.
Jen Kelly
American, 26

Favorite place I've been so far: Nepal



The first time I traveled on my own I was 12 years old and I was going to a summer camp across the country. After that first taste of freedom there was no going back! After graduating with a teaching degree, I moved away from the US and have been using teaching as a way to travel. So far I've traveled to over 20 countries and lived in four of them. Now I am teaching English online and traveling with my boyfriend Mike, who I met while backpacking in Cambodia. Traveling has changed my life and I hope the experiences I share will inspire others to get out there and see this beautiful world!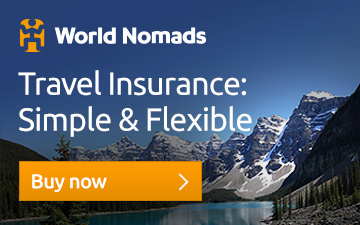 Follow our adventures on Instagram!
This fold-up style tech accessory bag is BAGSMART's smallest most compact organizer. It takes up very little space in your pack and will keep your essential and fragile gear super
View details