HOW TO GET from Sihanoukville Airport to Kampot

January 11, 2019

We recently flew internationally into Sihanoukville Airport and wanted to go directly to Kampot. We couldn't find much information online about the best way to do this trip, so I thought I'd share how we did it.

Sihanoukville Airport -> Sihanoukville -> Kampot

There seem to be a few different options for getting to Kampot from the airport. The cheapest option would be to take a shared taxi from the airport into Sihanoukville, which should cost $5 per person as long as you have four people to split it.

The drivers will take you with less than four people but you will have to cover the full $20. If you don't have four people, look around for other foreigners to see if they are also taking a taxi to Sihanoukville. Chances are, you'll find someone to share the taxi with. The ride should take about an hour. From Sihanoukville, you can take a bus to Kampot for $6 which will take about three more hours.

Sihanoukville Airport is very small. When you walk inside from the tarmac, straight ahead you will see a counter where you can get your visa application, or to the left are the customs desks where you go if you have an eVisa. (If you are entering the country with an eVisa, make sure you have two copies of your visa printed out!)

From the customs line, you can see the little baggage belt just past the desks. Once you are through customs and have your bag, you walk out into the lobby area where you will see all the taxi companies behind desks. They were all very friendly and trying to grab our attention. We picked the friendliest looking one and told him where we want to go. He then found a driver for us and he took us to our taxi.

From Sihanoukville, you can buy a bus ticket to Kampot. One of the places you can buy your ticket is the port where you catch the ferry to Koh Rong. The bus company that our friends used to do this trip is called Champa Mekong. They have several departure times into Kampot every day, with the first bus leaving at 8:00am and the last bus leaving at 3:30pm.

Although the photo of the bus when they bought the tickets showed a big VIP bus, it ended up being a smaller van that held about 17 people including the driver. The van did have AC although it wasn't very effective. As I said, this drive takes about three hours and they will drop you off in Kampot at their storefront which is in a pretty central location in town.

Getting to Kampot this way should only cost you $11 and will take the four hours of travel time plus however long you have to wait for your bus from Sihanoukville (depending on what time you arrive and the next available bus time). If you're not in a hurry and are trying to make your money last, this could be the option for you!

Sihanoukville Airport -> Kampot

Another option, and the way that we decided to get to Kampot, is to pay for a private taxi directly from the airport. Because the airport is so small, we were skeptical that we would find a taxi driver who would want to drive all the way to Kampot.

However, as soon as we told the man behind the counter where we wanted to go, he enthusiastically said 'Okay!' without any hesitation and said it would cost $60. We haggled our way down to $50 which we thought was a fair price, and he brought us outside to find a driver who would take us.

The taxi was an air-conditioned minivan all to ourselves. The driver even handed us his phone so we could put our own music on! The drive took about two and a half hours and was pretty comfortable. Some parts of the road had lots of potholes, which meant we had to drive slowly, but for the most part, it was a good ride. We showed the driver what hostel we were staying at and he dropped us off there.

Although this option is more expensive, we were splitting it in two and we felt the convenience and the shorter travel time definitely made it worth it. No regrets here!

If you've had any different experiences making this trip, or have any questions about it, please leave a comment below, we'd love to hear from you!


Jen Kelly

Meet the author.
Jen Kelly
American, 26

Favorite place I've been so far: Nepal



The first time I traveled on my own I was 12 years old and I was going to a summer camp across the country. After that first taste of freedom there was no going back! After graduating with a teaching degree, I moved away from the US and have been using teaching as a way to travel. So far I've traveled to over 20 countries and lived in four of them. Now I am teaching English online and traveling with my boyfriend Mike, who I met while backpacking in Cambodia. Traveling has changed my life and I hope the experiences I share will inspire others to get out there and see this beautiful world!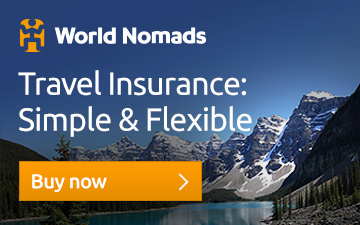 Follow our adventures on Instagram!
Simple and safe, this is a travel-friendly padlock that is accepted and recognized by the Transportation Security Administration (TSA). Having a strong, cable type loop provides the versatility of being
View details