The Best Place to Rent a Motorbike in Kampot

February 13, 2019
There are SO MANY places to rent a motorbike in Kampot. (Just to be clear, when I say motorbike, I'm talking about the classic Southeast Asia automatic scooters - pictured above.) You can walk around the main blocks of town and find countless little shops that will rent you a scooter. However, like most things, some places are much better than others.

A lot of the hostels and little travel shops in town will get scooters from somewhere else and then charge you a little extra to rent it so they make a profit. It generally costs $5 a day to rent a motorbike from these places.
Hong Kimeng
The places that have their own bikes to rent out, generally do it for $4 a day. We rented a scooter from Hong Kimeng who normally charges $4 a day, but if you're renting it for longer he does $25 for the week. He will also require you to give him your passport for the duration of time you have the motorbike.

Some of his scooters aren't in the best condition, but he was happy to fix the problems we had on the spot. He also traded our bike for a better one as soon as he had one available. So even though we did have a few problems with his motorbikes, he was easy to work with and his shop is right in the main section of town (see map below).

After our week with this scooter, we decided to try a motorbike from Bison Tours (there seem to be a lot of Bison Tours bikes around town, and they came highly recommended). In our opinion, this is the best place to rent a motorbike in Kampot, especially if you are here for a few weeks or more.
Bison Tours

The owner, Mr. Bison, is a kind-hearted local who prides himself in running a good business. If you're staying at a hostel or guesthouse that he trusts, he is happy to rent you the motorbike without taking your passport. He rents his motorbikes for $4 a day or $90 a month.

Mr. Bison was a legend when we had a little accident and smashed one of our mirrors. We brought it to his shop and he replaced the mirror on the spot and didn't even charge us! While we were there he also looked over the bike, tuned up the brakes, saying he likes to 'take one minute, to keep you safe.' He also likes to service his bikes at least once a month to make sure they are all working well.

Bison Tours offers some of the best helmets I've seen in town. Everywhere else gives you these little plastic hats that only cover the top of your head and wouldn't really protect you if you had a bad fall. Bison Tours has these helmets as well but they also have some that come down to cover your ears and more of your head. Try to ask for a better helmet if they have any available.

If you're planning on staying awhile, and you want an even better helmet, it's worth it to go out and buy your own for only $15 at the local market.
If you have any questions or more information about renting a motorbike in Kampot, leave a comment below! We'd love to hear from you!

Jen Kelly

Meet the author.
Jen Kelly
American, 26

Favorite place I've been so far: Nepal



The first time I traveled on my own I was 12 years old and I was going to a summer camp across the country. After that first taste of freedom there was no going back! After graduating with a teaching degree, I moved away from the US and have been using teaching as a way to travel. So far I've traveled to over 20 countries and lived in four of them. Now I am teaching English online and traveling with my boyfriend Mike, who I met while backpacking in Cambodia. Traveling has changed my life and I hope the experiences I share will inspire others to get out there and see this beautiful world!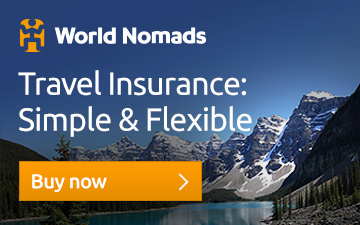 Follow our adventures on Instagram!
This fold-up style tech accessory bag is BAGSMART's smallest most compact organizer. It takes up very little space in your pack and will keep your essential and fragile gear super
View details
There are SO MANY places to rent a motorbike in Kampot. However, like most things, some places are much better than others.
We recently flew internationally into Sihanoukville Airport and wanted to go directly to Kampot. We couldn't find much information online about the best way to do this trip, so I...